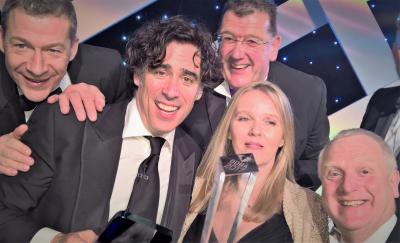 I have been looking through the promotional plans for May and it is definitely going to be a busy month with three business expos in two days. On 10th May we will again be at Kent Vision Live, taking place at The Kent Event Centre. With over 3,000 participants coming together at the Detling Showground, near Maidstone, this exposition describes itself as the "South East's premier B2B exhibition and the largest event of its kind in the UK."
Our team will be split on the 11th May, with some of us at Thames Valley – The Great British Expo, at Windsor Racecourse in Berkshire, and some of us at the Let's Do Business event at Brighton Racecourse. Both events give us the ideal opportunity to meet existing customers and hopefully plenty of new ones. We also get to see a range of speakers, including: Rob Law MBE, CEO of Trunki at Let's Do Business; Andy Street CBE, former CEO at John Lewis, and Roslyn Bell, entrepreneur and property magnate, at Thames Valley; and, Rosemary Shrager, Robert Peston and Gori Yahaya, from Google Digital, at Kent Vision Live.
Planning for these B2B events led to me recalling the last expo we were at – the Net XP Sussex business fair, at the East Sussex National Resort – a great event, which we were pleased to sponsor. It was slightly different to our normal expositions but what I really remember about that day was the evening.
After a long day seeing old friends and making new contacts at the expo, we gathered together the senior Cleankill team and headed to the Gatwick Diamond Business Awards, at the Effingham Park Hotel. In previous years, I have told you about going to awards evenings and not winning but this year was a very different experience.
Last month, you may recall, I wrote about being excited because we were named finalists in the category of 'Green Business of the Year'. This has always been a very important category to us because, along with being recognised for our training and staff development, it is one of our key objectives as a company. As people don't readily associate pest control with being 'green', it is important to us to have our efforts acknowledged by external sources. Luckily for us the Gatwick Diamond Business Awards acknowledged our efforts and we were named 2017's 'Green Business of the Year'. I can honestly say, receiving our award from actor and occasional host of Have I Got News For You, Stephen Mangan, was one of the high points of the year so far.
But our winning streak continued, although in different circumstances.
For those of us that live and work in and around London, 22nd March will always be associated with the terrible events at Westminster and we were certainly relieved to find none of our customers or staff were caught up in those terrible events. Despite the words of some commentators, however, London can't be cowed by the actions of one deluded idiot and of course life went on as normal for most Londoners.
Just down the river, at East Wintergarden, Canary Wharf, the British Pest Control Association (BPCA) was holding PestEx – the largest UK trade exhibition and conference for the pest control industry. As part of this year's events, the BPCA had decided to start its own industry awards – the British Pest Management Awards. The inauguration of these awards coincided with celebrations to mark 75 years of the BCPA and the prizes were given out during the special anniversary dinner. These awards recognise excellence in the pest management industry by acknowledging the difference individuals and companies can make to creating a positive image of the industry in terms of public health, food safety, environmental sustainability and economic significance.
Cleankill Pest Control were lucky enough to be Highly Commended in the category of 'Company of the Year'. To be highly commended in a category which is being judged by your peers, is a real honour and something we greatly appreciate. However, for us, the night really belongs to our colleague, Chris Davis, who received the Charles Keeble Award for outstanding commitment and performance in training and development. Chris has been working with us for ten years and his expertise, enthusiasm and professionalism have helped Cleankill grow into the company it is today. As Training, Quality and Technical Manager, Chris has been an integral part of us achieving the Investors in People Silver Accreditation and his work helps us maintain our standing as one of the most highly trained teams of pest controller in the country.
To watch a video of the event created by the BPCA, click here.  
But that's enough looking back. Obviously, you can't always have a fortnight like that and it is always important to look forward...
We hope to see you on the 10th and 11th May!