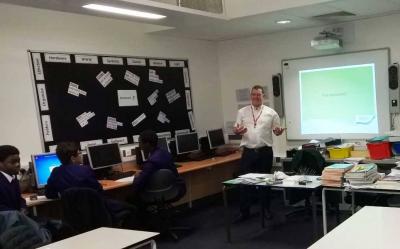 As a pest controller with over 35 years' experience, I am pretty used to stepping into unknown environments. When you are called to a new job, you are never sure exactly what you are going to find and what special problems will present themselves - with pest control there is never a 'one-solution-fits-all' strategy.
Since starting Cleankill in 1995, we have always tried to get involved in the communities in which we live and work. This has been important to us on both a personal level and a company level. Our involvement has included: sponsoring sports teams; acting as Games Makers at London 2012; helping support children's development at local sport's centres; fundraising for various local charities, including Tadworth Children's Trust and St Mungo's homeless care; and, giving talks to various groups and schools.
With primary schools we often give a talk about various different bugs and bring examples along for the students to see and touch. This is an ideal way for children to come face-to-face with the protagonists of the curriculum's 'Mini-beast' topic.
Last month, however, I was asked by Norwood School to give a completely different presentation – Communication in the Workplace.
Since becoming the co-owner of a business, and a business that is constantly expanding, it has become clear to me that correct communication is one of the most important facets of a leader. It is reported that 80% of problems in the workplace are due to poor communication. From my perspective, what was nice was the way I got to put into the practice the words I was actually speaking. Keeping a teenagers engaged in a talk is far more difficult that keeping a group of small children engaged when there are creepy crawlies around.
It was also interesting for me, because it allowed me to crystallise my thoughts on communication. In addition to the obvious vocal forms of expression, I was also able to show them the importance of visible communication; by facial expressions and by presenting a smart appearance with a smart uniform and a clean and tidy van.
The importance we at Cleankill have always placed on communication, was one of the reasons we were lucky enough to receive the Silver Investors in People award in 2015 – something no other pest control company has achieved.
We were surprised and delighted that Investors in People have now seen fit to reward us even further, with a nomination in the category of Excellence in Social Responsibility (up to 249 employees) at the third annual Investors in People Awards. These global awards seek to reward those companies which, in the words of Paul Devoy, Head of Investors in People, "outperform in their sector, demonstrating great people management practice and a commitment to staff development."
To be nominated in the Social Responsibility category at a global business awards event is a privilege and tells us, once again, that our policy of grounding the business in the community, is the right one.