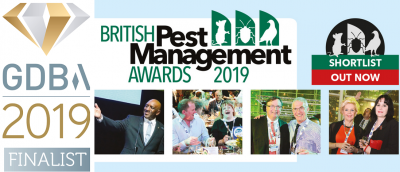 This is one of those months when there is so much to write about that it is hard to know where to begin.
Do I start with the fact that Cleankill has recently acquired three pest control companies in Buckinghamshire, Brighton and Bristol – encapsulated in the Pest Magazine headline, "A Trio of Acquisitions for Cleankill" – or do I focus on the many upcoming business fairs we are attending? That was my original intention and then we were shortlisted for some awards.
I've written in my blog many times about the reasons we find it so valuable to our company to enter business awards. In November 2018 I even wrote my top seven reasons for entering business awards. I have also written about the joys of winning and the way to react when you are overlooked. In short, I wasn't going to write about the awards because I thought I'd covered all the angles. But, within a couple of days of each other, we found ourselves shortlisted in six categories at two awards, and two of them were for me personally.
Obviously, that is extremely gratifying. To be listed as a finalist in the 'Business Person of the Year' at the Gatwick Diamond Business Awards, and 'Unsung Hero' at the British Pest Management Awards (BPMAs), is an amazing feeling. It is always humbling to receive the approbation of your peers. In addition to this, Cleankill has also been shortlisted for 'Best Employer' at the Gatwick Diamond Business Awards, and 'Team of the Year' and 'Company of the Year' at the BPMAs.  
The more observant of you may notice that is only five categories, and previously I said six! It was the sixth that actually made me change my mind about writing about awards again.
The final award we are shortlisted for at the BPMAs is 'Young Technician of the Year'. To see Oliver Roe shortlisted for this category is wonderful. I nominated Oliver because he is a true inspiration to anyone starting out in any form of work. He began working for us around 18 months ago and is still one of our youngest technicians. Previously to this, he had achieved a BA in Modern History, so this was quite a change of career focus.
To say Oliver has applied himself to his new job would be an understatement. He is perceptive and patient, good skills for a pest control technician. Working in the challenging Central London area, he has developed a certain flair for the job, bringing his calm demeanour and resolute approach to every job. Above all, he is trustworthy and reliable, and this has contributed greatly to the level of productivity we are seeing in his area and feedback we are getting from customers.
Oliver has also taken full advantage of the training opportunities we have offered him. In the time he has been with us he has gained his Level 2 Award in Pest Management and attained an Air Weapons Proficiency Certificate.
Perhaps this is why I felt moved to write about business awards again. In addition to the fact we are justly proud of Oliver's achievements, the fact is I am also very proud of the way Cleankill is able to take talented young people and turn them into first-class employees. In previous years we have been lucky enough to be recognised for our training and staff development, but to have one of young technicians recognised in this way clearly shows we are doing the right things as a business.
The Gatwick Diamond Business Awards will be awarded at a special gala dinner hosted by standup comedian and Radio 4 regular Marcus Brigstocke on 21st March 2019. The BPMAs will be announced the day before at PestEx – the largest gathering of pest control professionals in the country.
Fingers crossed for both events! It's going to be a busy couple of days as, in addition to being at PestEx on 20th and 21st March, we are also at the East Sussex Marketing Expo organised by NetXP on 21st March.