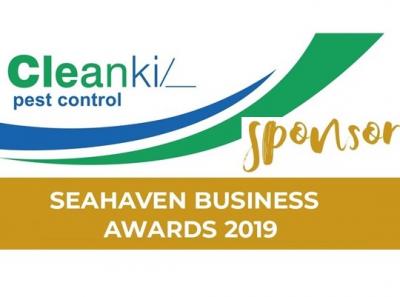 Cleankill Pest Control has announced it will be one of the main sponsors at this year's Seahaven Business Awards.
The Seahaven Business Awards recognise businesses in the Seahaven area (BN9, BN25 and BN10 postcodes) that have excelled in the last 12 months. Categories include Business of the Year, Business Person of the Year, Best Environmental Business, Best Customer Service, Best New Business, Best Eatery, and there is also the President's Award for Best Health, Wellbeing and Beauty Business.
Judging for the awards is undertaken by a panel comprising local MP Maria Caulfield, MP Lloyd Russell-Moyle, the Mayor of Newhaven and the Presidents of the Newhaven, Peacehaven and Seaford Chambers of Commerce.
Commenting on the sponsorship, Managing Director Paul Bates noted:
"Our company has enjoyed considerable success at these awards over the years, including being named Best Environmental Business in 2014 and having Operations Director Jonathan Whitehead named Best Business Person in 2015. In 2019, however, we have decided to take a backseat and will instead raise a toast to others who are achieving amazing things in and around Newhaven, Peacehaven and Seaford.
As a company we have long understood the importance of supporting and entering business awards. At a time when Cleankill is excited to be expanding into new areas, our decision to sponsor the 2019 Seahaven Business Awards is a clear demonstration that this region remains at the heart of our business."
The Seahaven Business Awards are organised by the Newhaven Chamber of Commerce, in association with the Peacehaven and Seaford Chambers of Commerce. Entries are now open, with the closing date for submissions being Friday, 29th March 2019. Winners will be announced at a special Gala Dinner on Friday, 10th May 2019.