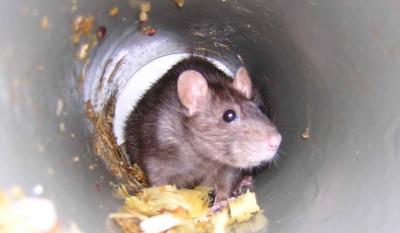 Last week I attended my first Business Showcase South West Expo at the Ashton Gate Stadium, home of Bristol City Football Club and the Bristol Bears Rugby Union Team. What an amazing venue! I like to think I can now say I've 'played' the same venue as Rod Stewart and the Spice Girls!
This was our second business expo as owners of Bristol-based Good Riddance Pest Control. About a year ago we were beginning to finalise its acquisition, so it is great to now be 'hands-on', meeting the clients and hopefully finding new customers. Good Riddance has an excellent reputation in the area, with some interesting contracts, it is therefore great to be able to talk about that success during this bustling business-to-business expo.
However, that isn't what I wanted to talk about. The drive to Bristol from South London along the M4 gave me time to reflect on that perennial problem...rats.
In the last few weeks, my name has appeared in newspapers up and down the country. In fact, the story went even further afield and it has appeared in Malaysia and Nigeria.
Lots of the articles, for example this one in MyLondon, quoted an interview that appeared in The Sun. In response to a journalist's question, I said:
"Recent heavy rain has forced many rats above ground," and pointed out, "there is lots of food around for rats at the moment, with ripe fruit and crops from harvesting, so the rat population is peaking." The real problems for many homeowners will start when it gets colder, as "rats will move closer to food supplies indoors and look for somewhere warm to nest – that means people's homes."
The point I was making was that this is the time to take a serious look at how rodent-proof your home is. As a pest control company, we see an increase of between 30 and 40% in callouts for rodent problems at this time of year.
In fact, as I said in the interview, the best way to deal with rats is to stop them getting into your house in the first place.  No house can be truly rodent-proof but there are things you can do that will help to deter them.
Seven top tips for stopping rodents entering your home:
Check brickwork to ensure there are no gaps large enough for a rodent to sneak through – a mouse can squeeze through a hole the width of a pencil

Remove kick plates from kitchen units to clear out food debris and check for rat droppings

Clear out stair cupboards and check the areas around pipework for holes

Check loft spaces for signs of rodents

Keep your garden tidy – remove garden rubbish and debris

Feed birds using only specialist bird feeders. Don't just scatter food around the garden

Fit bristle-strip draft excluders to doors to stop rodents getting in
On that last one, it is amazing how often we get called to a house because it has a rat problem and then find the doors don't quite fit the frame. This is an invitation to a cunning rodent.
It is wrong to think of rats as being so very different to us. In winter they want warmth, protection and food – just like us. Our homes, and especially secluded areas like attics, are the perfect habitat for them to see out the winter. Our only real option is to make our homes unattractive to them by making access difficult or by removing one of the primary attractions – food.
The reasons to keep them out are not just hygienic. If they do access your home, they will destroy things to make nesting materials and can chew through beams and joists. A potentially deadly problem is that they will also chew through electric cable and this can cause fires. For example, Glis glis or edible dormice, were blamed for this Berkhamsted housefire in 2015.
As I said early though, no house is fully rodent-proof. Some of you may remember a couple of years ago, I had a little problem myself, with a mouse in my Christmas Tree!
As professional pest controllers, we don't just deal with a problem when it happens, we also provide preventative measures to help you make your home more rodent-proof. For more information, call us on 0333 920 0738 or click here.